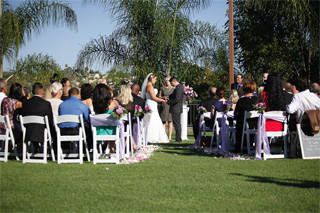 The Vista Optimist Club is one of the most pristine locations to have that special day whether it be a wedding, anniversary, or corporate event, you will find this property can suit all your needs for a small event to an extra-large event. We have the space to accommodate any and all needs associated with your desires.
Located on a very private and secluded hilltop this 7 ½ acre view property will impress everyone with its manicured lawns, trees and shrubs making this destination one to consider when choosing that special place for memories of a lifetime.
We offer both inside and outside accommodations that include extensive parking, marble entry, hardwood dance floor, guest tables, padded chairs, and stoneware, state of the art kitchen with third party catering available, wheelchair access large bathrooms as well as our private Bride's Suite to insure all preparations for that big day are comfortable for the entire wedding party.
We look forward to becoming your choice for a Vista CA Wedding Venue. To inquire about pricing, availability, and options to make your event the best event ever call our staff at 760-598-5907.